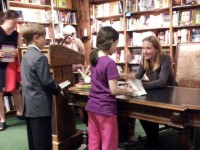 What an incredible thrill it is, after years of working on a book, to talk about it with other people! Much of a writer's life, though creative, is fairly solitary—pitching an idea, researching, writing, and editing.This stage of my book now is very social and interactive, and I enjoy it in a different way from the process of writing.
I'm now on a national book tour for "On My Honor," giving speeches, doing readings, and signing books all over the country. I love looking out at an audience seeing little Brownie Girl Scouts, Girl Scouts who are now grandmothers, and many of my own friends and family who have come to cheer me on as I talk about Daisy and writing. I've been to Denver, New Jersey, and Washington, DC, and will be in Dallas this week, with many more exciting stops to go.
While I like the speech part, my favorite time is the question and answer session, when someone can ask me more about what they read in "On My Honor," or about Daisy's life, or how I did research. I also like the questions that reveal the audience member's own Girl Scout experiences and thoughts about girls and women in our society. Then the talk becomes a conversation, and the writer and readers learn from each other.